We currently have 12 games consoles made by Atari in our collection. While it isn't a exhaustive list, it is a good approximation of what we have here at the Centre for Computing History. If you have something which you would like to donate to us, please head to our donation page for information.
Order By : Title - Release Date - Publisher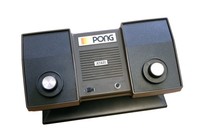 Atari PONG
Description:
Atari PONG was released in June 1972 and is the first commercially successful video game and is based on a simple two-dimensional graphical representation of a tennis-like game.