We currently have 1 games consoles made by ABL in our collection. While it isn't a exhaustive list, it is a good approximation of what we have here at the Centre for Computing History. If you have something which you would like to donate to us, please head to our donation page for information.
Order By : Title - Release Date - Publisher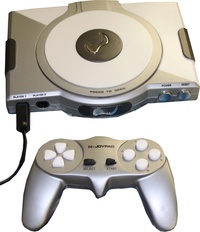 N-Joypad
Description:
The N-Joypad is a Nintendo Entertainment System clone manufactured by the Hong Kong-based company ABL, which is different from other clones because it does not use cartridges, instead relying on "compact discs" (which are actually pieces of plastic) of different size.